At White House Artesian Springs, we offer a wide range of services to meet your needs in the best possible way. Most notably, we offer delivery services, a drive-thru with full service, as well as our self-service vendors, which are open 24 hours a day, 7 days a week, and 365 days a year.
---

Delivery
Our drivers are able to supply your home or business with the Greater Cleveland area's finest drinking water. We offer delivery on a wide range of products, as well as offering rental Oasis water cooler units. You can set up delivery online or by contacting the office. We currently service Lorain, Medina, Cuyahoga, Huron, Erie, Sandusky, Ottawa, Summit, Wayne, Ashland, Richland, and Crawford Counties.
---

Drive-Thru
Our drive-thru offers all of our delivery products and more at a discounted price. Our friendly staff will be happy to assist you in fulfilling all of your spring water needs. Our hours are available on the side bar, and any questions can be answered by calling the drive-thru.
---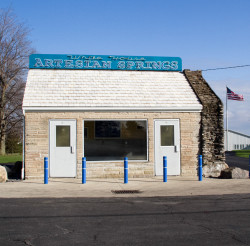 Vendors
Our self-service vendors are always open and dispense 1 gallon of Spring Water for only 25 cents. There is a change machine available at the main vendor and can also be tendered in the drive-thru.
---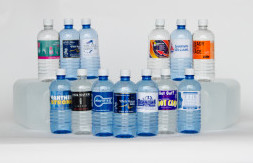 Custom Bottle Labels
Need custom labeled bottles for your small business, group, church, or event? We provide custom labeled 12 oz. Water bottles and will work with you to create the perfect label for your organization.
Click here for more information.
---
Water Cooler Cleaning and Repair
We offer cleaning and repair on all Oasis brand coolers. If you are a regular delivery customer, your White House driver will pick it up and bring it in to be bench checked, cleaned, and sanitized. If you would like your cooler picked up and are not a delivery customer, you are subject to a service fee. You can also bring your cooler in to the drive-thru and drop it off there to be repaired. If you are bringing your cooler in yourself, do not lay it on its side, as this can cause damage to the cooler.
Repair Cost: Bench Fee: $25, most repairs end up being between $25-$75, based on warranty and severity of problem. Cleaning Cost: Cold Only: $25.00 Hot & Cold: $30.00 Dispenser: $15.00

---

Point of Use
Description coming soon.